Production Director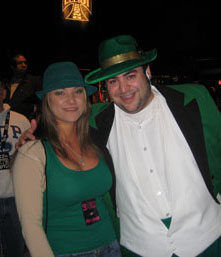 Name: Andrea Granetto
Title: Production Director
Year: Senior
Major: Media Production and Criticism
Position Description: I work on creating an editing commercials and PSA's. I also aid students who require help with Adobe Audition and produce all band interviews.
What you love about working at WGMU: WGMU is my family.
Hobbies: Snowboarding, bowling, football, music.
Favorite Band/Artist: Common, Connie Francis, Def Leppard, Dr. Dre, Eminem, Fuel, George Clinton, Incubus, Jay-Z, Joss Stone, Kings of Leon, Lost Boyz, M.I.A., McLyte, My Chemical Romance, N.E.R.D., The Notorious B.I.G., O.A.R., Outkast, Papa Roach, Rage, Santana, Thalia, Timbaland, Tool, The Veronicas, 2Pac, Foo Fighters, WU Tang, Fabolous, The Spill Canvas, System of a Down.